Cook Sustainably - Recipes
---
Barley Bake
Barley and Vegetable Bake (adapted for Sun Oven)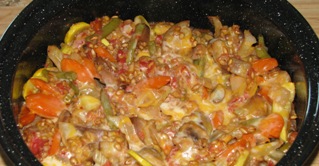 This dish is an easy one for the Sun Oven with many possible vegetable combinations. More vegetables can be added or more barley according to taste. I have tried this recipe in the electric oven and do not like the dish nearly as well as from the Sun Oven.
14.5 oz can diced tomatoes, undrained or 1 can chicken broth or 1/2 c vegetable juice 1/4 c water
3 stalks celery, sliced
3 carrots, sliced
1 sm eggplant, diced
1 c green beans, snapped
1 c sliced mushrooms
2 cloves garlic
1/2 c diced onion
1 zuchinni squash, diced
1/2 c barley
10 oz pepper jack cheese (diced or shredded)
Heat all ingredients (except cheese) till warm to speed baking. I cover my pan with foil, put the lid on then cover with cloth before placing in oven for 1.5 hours.